It's your neighborhood.  Nobody knows it better.
Community Development Advocates of Detroit's (CDAD) Strategic Framework draws on the power of Detroit residents to shape their own neighborhoods.  The Strategic Framework helps you turn the neighborhood you see today into the place you want it to be tomorrow. At its heart, Strategic Framework is a tool for communities to:
better understand what is happening in your neighborhoods
describe a vision for your neighborhoods
develop and implement results-oriented, short- and long-term revitalization plans
use a common language to forge best-practices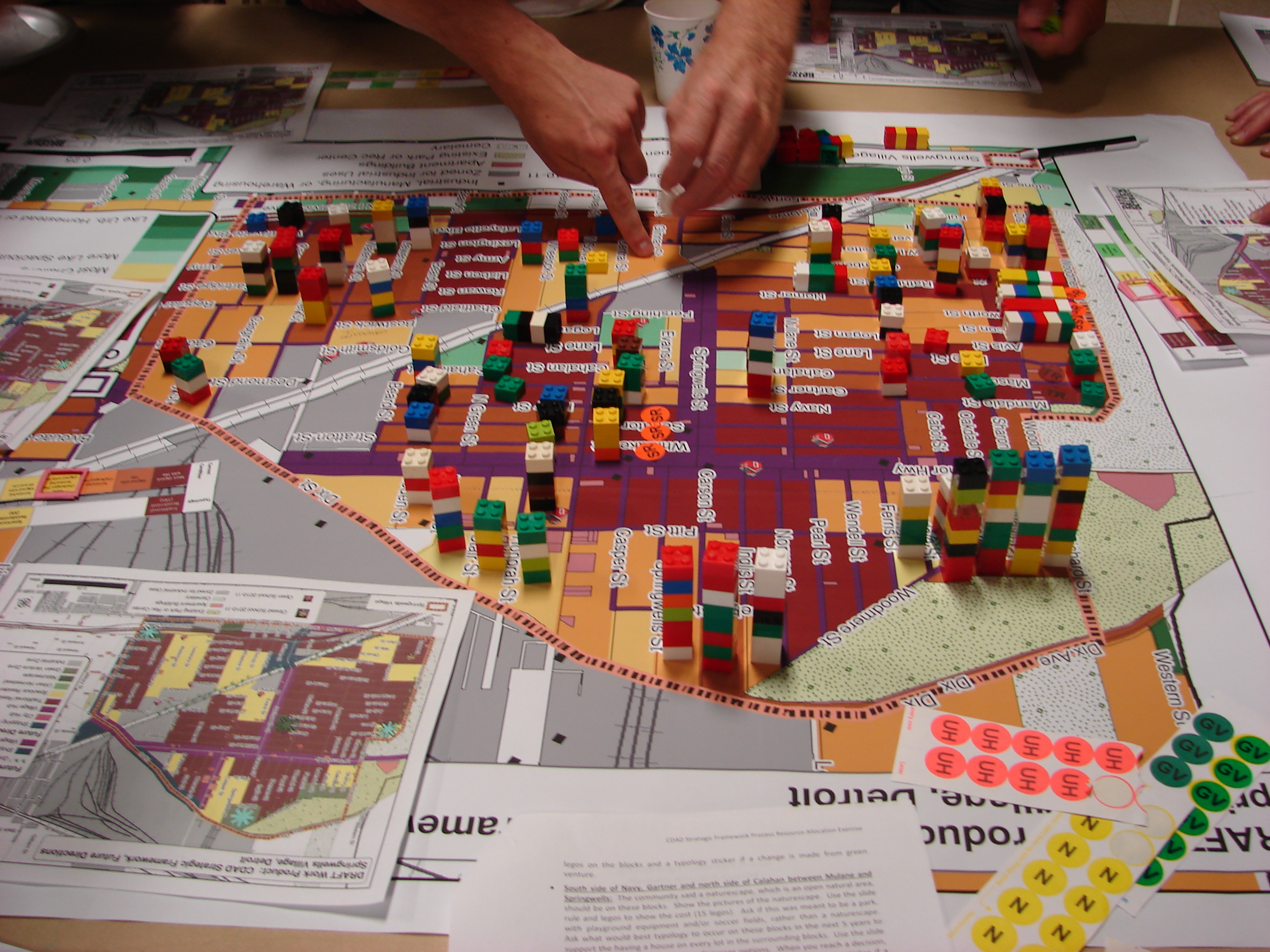 The CDAD Strategic Framework process consists of public exercises to help residents and other community stakeholders envision the future directions of their neighborhood, describe that vision, and achieve it.  The process has already been implemented in two Detroit neighborhoods: Springwells Village, with Urban Neighborhood Initiatives, and via the Lower East Side Action Plan (LEAP) (you can check out LEAP's Facebook page here).
So why undergo this planning process?  Because in the end, you will have:
A Shared Vision: A community plan encourages partnerships and prevents wasted resources if everyone is working towards the same goals along the same timeline.
Credibility: When neighborhood groups share a plan created by meaningful civic engagement, others (funders, the City, for example) take note.
Advocacy: It's easier to take a stand for a neighborhood vision if it's a shared vision.  Neighborhood stakeholders can identify and work to change the policies that would interfere with the accomplishment of their neighborhood plans—allowing that vision to be a strong basis for advocacy.
Motivation and Opportunity: At the conclusion of the Strategic Framework process, the community has created a plan it can implement.  That plan becomes a beacon for anyone who cares about the neighborhood to get involved and help move the plan forward.
1. The Strategic Framework Process Guide: a detailed planning tool for communities undergoing the Strategic Framework Process.
2. The Strategic Framework Overview.
3. A  detailed guide to the CDAD Neighborhood Typologies, ten different descriptions of land use that help residents stitch together a plan for their neighborhood's future.  CDAD's typologies help ensure a future for every part of the city.
You can also check out Data Driven Detroit's typology map for the entire City of Detroit!
Data Driven Detroit (D3), CDAD's technical partner during the development of the Strategic Framework process, has created an interactive map that shows the analysis of current conditions across the city. Click on this link or the map below and you can:
zoom in and out to see blocks, neighborhoods and different areas
pull up an information window with:

data characteristics for each census block
a snapshot of each census block